Your Ski Capsule Wardrobe
With most of Europe covered in snow, it's time to head to the Alps to take advantage of the fresh powder and what will almost certainly be excellent skiing. But planning what to wear and how to pack for a ski holiday is a whole different conversation filled with its own set of challenges.
As a Canadian, I grew up skiing and most of the time freezing. Either by not having the right gear, not investing in good quality, warm pieces or forgetting something essential. For ski purchases, I suggest getting great quality and invest in timeless designs. Unless you are an avid skier and spend serious time on the slopes, these items will last you for years and you will not tire of the designs when you pull them out season after season.
For those of you who are planning to hit the slopes, here is my essentials packing list and my tops picks for stylish and functional gear.
The Goggles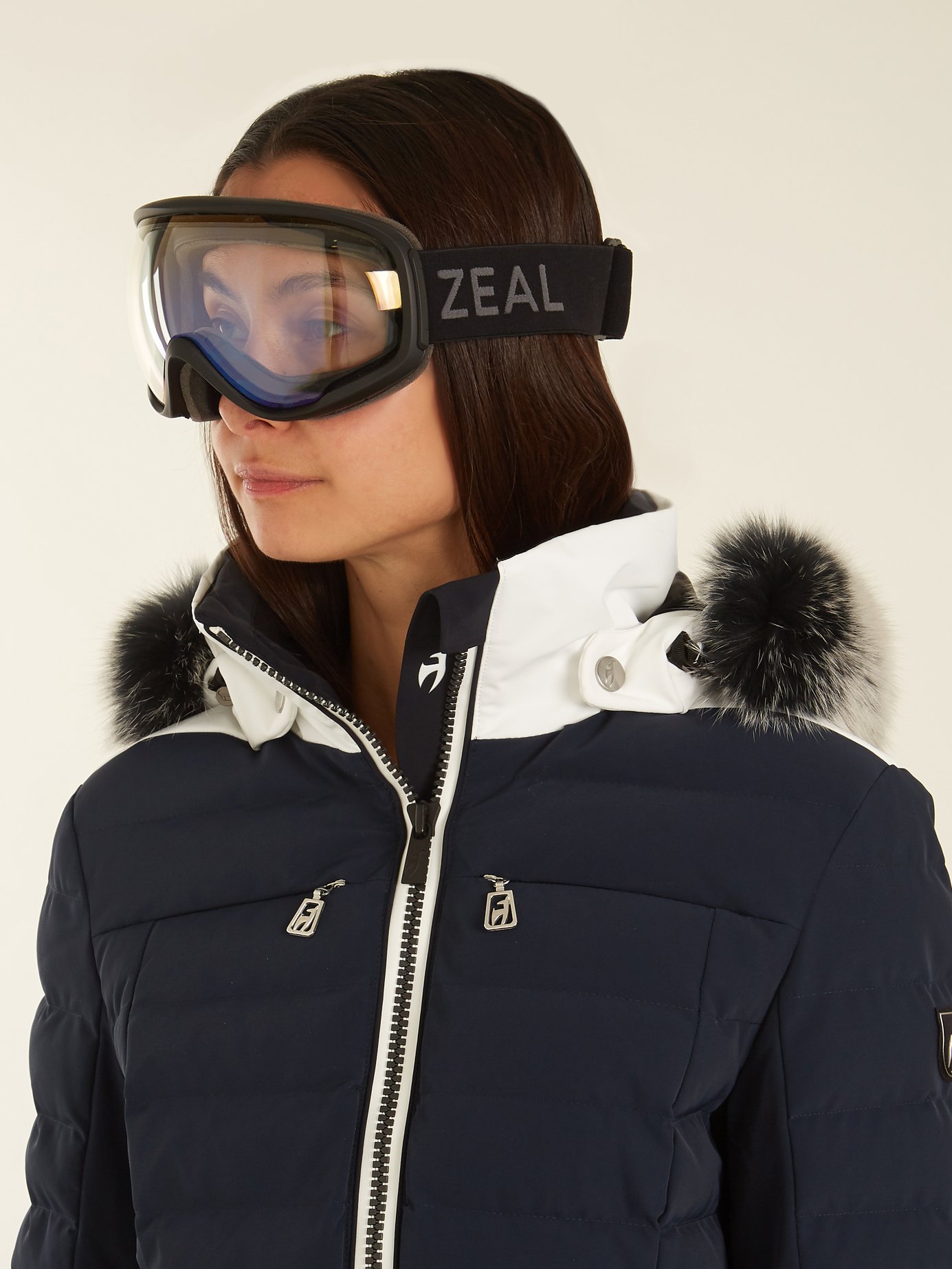 Forecast ski goggles
Was £166 Now £116
With polarised lenses that change with the weather, these are the perfect goggles for all conditions! Function and sleek so they will last for years to come.
For me goggles are the most important item to get right. While it feels like an unnecessary investment, keeping warm is the key right? Actually, cheap pairs unfortunately fog up terribly creating very poor visibility and making it almost impossible to get down the slope let alone enjoy the ride! So while making the investment, look for ones that are versatile, well fitting, fog-resistant and comfortable. Trust me, they will make all the difference.
The Under-layers
The second most important thing to get right are your under-layers as they act to insulate your body while wicking sweat away keeping you dry and warm all day. Doesn't sound very appealing? Luckily, the highly technical pieces finally come in fashionable and sexy cuts.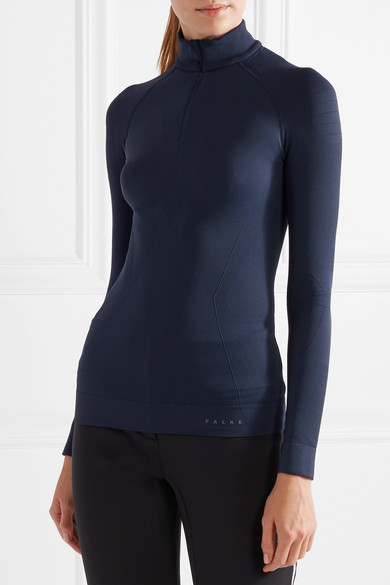 TOP £70
The perfect base-layer, constructed from stretch-knit materials that wick away moisture and regulate your temperature. I love the stand collar which keeps drafts from shooting down your neck while you race down the slopes. The navy is timeless and makes you feel a little bit like James Bond.
LEGGINGS £60
These stretchy moisture-wicking leggings are the perfect accompaniment with a close fit for optimum comfort.
This midlayer is my top pick because of its slim-lines, sleek aesthetic, colour pairing versatility and superior warmth with 3D quilting for exceptional insulation. You will look and feel chic, stylish and warm.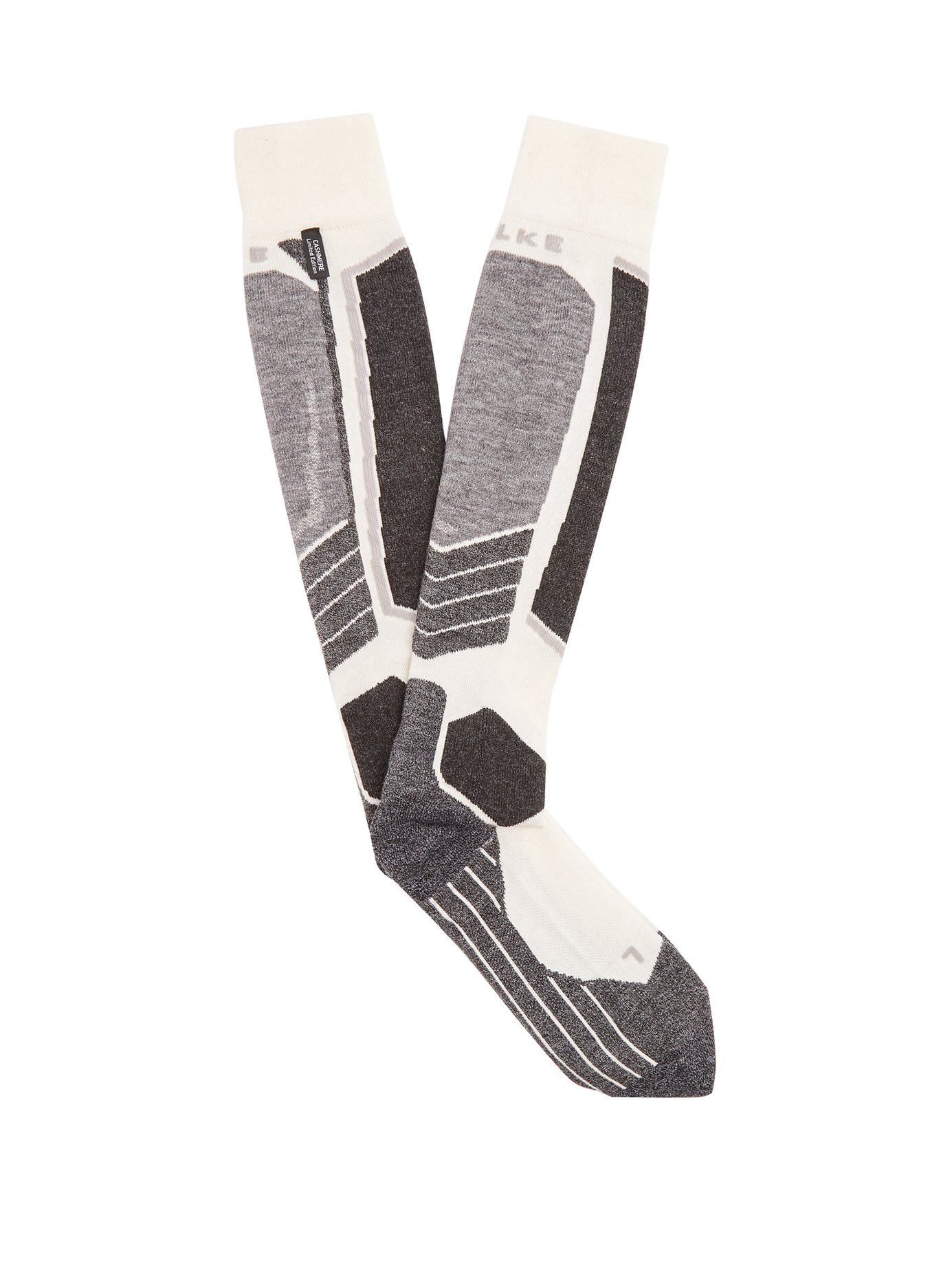 It is really quite hard to keep the sex factor up while talking about sweat-wicking, and antibacterial qualities, which is why well coordinated, sleek, close-fitting ensembles in timeless palettes are key. These socks, in their muted tones, are hyper-functional and as elegant as ski socks get.
The Outerwear
Finally, where stylish options are plenty with every style, aesthetic and combination available. For the epitome of chic, here are my favourite pieces in the market.
Modern Classics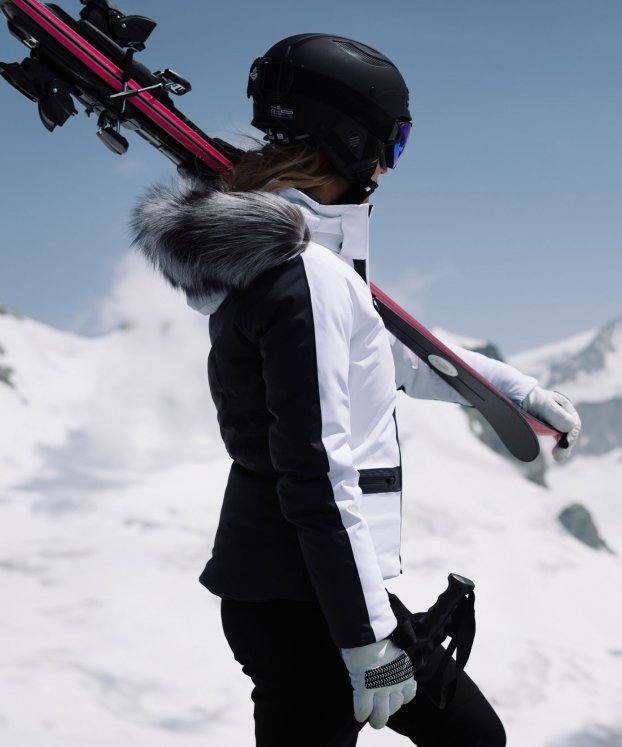 Streamlined and incredibly elegant, this jacket and pant combo is the creme de la creme of skiwear. Where high performance meets high style.
Was £409 Now £325
These stretchy, tailored and waterproof pants not only keep your legs warm, but also feature tear resistant fabric on the lower part to shield against tears and injuries.
Developed by an Olympic Ski Champion from Norway you can have faith that your money is well invested.
Lined with the finest merino wool and special insulation padding, cut with a high cuff to keep snow out, these gloves ensure your hands are always dry and warm.
Note - Available in mens sizing so go down for a snug fit.
Apres Ski
Okay, let's be real, while we enjoy an exhilarating day on the slopes, what we are really excited for is the after skiing. From piste-side parties, to cozy dinners, there is a plethora of options catering to your every desire. The great thing is that mountain style is all about comfort and practicality. Sleek leggings, jeans or leather trousers with an oversized jumper, boots and a great coat will do the trick. But if you want something more fashion orientated, here's my favourite look.
Inspired by the post-war bush pilots in Northern Canada, this iconic jacket is one of the most popular styles from Canada Goose being functional and cool. Cut close to the body and cropped short at the waist, it shows of those great legs that have been getting a serious workout all day.
theory Rifonia Turtleneck sweater
£495
In a thick chunky knit and long in the torso this wool-blend sweater will keep you warm and stylish off the slopes. The clean cut and simple neckline ensures your frame is not overwhelmed and you can easily tuck into your bottoms. It works equally as easy with jeans or leather trousers, but with a skirt it has a slight romantic feel.
With a clean flat front, simply ivory buttons details anchoring loose ties, the shape opens into exaggerated flairs around the knees perfectly balancing feminine and modern design details. As perfect in the city as on the slope, this skirt is my go to shape for this season. Pair with the Chloe Parker boots which add weight and balances the chunky knit. You will be chic, comfortable and warm.
The Extras
There are a few extra essentials that one needs to remember which do not necessarily at first pop into your mind when planning a ski holiday. These include a bathing suit, sunglasses and sunscreen.
ILLESTEVA Dorchester Aviator style sunglasses
£170
These are as cool as they are lightweight. Equally as good slope-side or beach-side, these frames are perfect for a ski trip, with yellow tinted lenses and plastic nose pieces. Trust me, you don't want metal sitting against your nose in the cold.
Available in the UK this March
CeraVe is a fantastic brand available in Canada and the US, launching in the UK this spring. I had it suggested by a dermatologist and cannot recommend more. This recently released daytime cream with SPF 30 and retinol, keeps my sensitive skin beautifully radiant even in the harshest of winter conditions.
Sending much love, piste-side
x
Jennifer